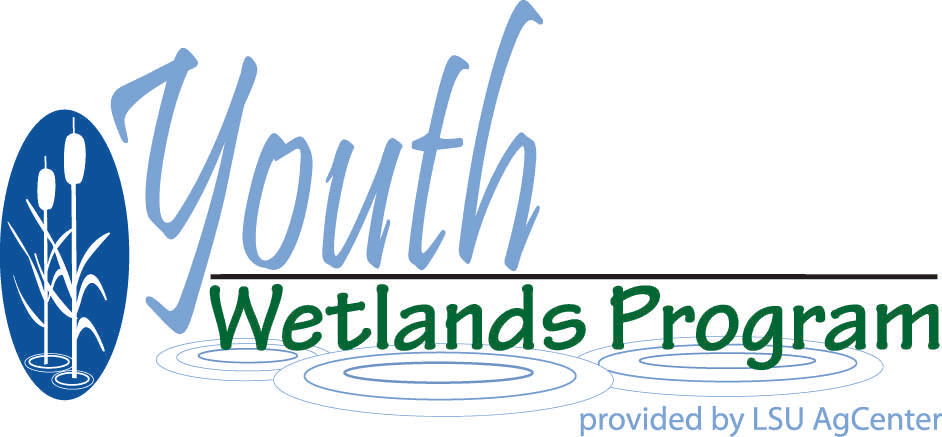 What is the Youth Wetlands Program and what does it have to offer?
Since the 1930's, over one million acres of Louisiana's coastal wetlands have converted to open water. The preservation of estuaries and other wetland areas is not just a concern of Louisiana citizens, but is recognized as a global challenge that will persist well into the next generation. Consequently, there is a growing state and national need to engage the youth of Louisiana in the fight to save Louisiana's wetlands. To combat this need, a partnership between the Coastal Protection and Restoration Authority (CPRA) and the Louisiana State University Agricultural Center (LSU AgCenter) was formed to create the Youth Wetlands (YW) Program.
The YW Program develops and distributes wetland education curriculum and teaching materials
FREE
to any teacher who signs up for the program. The overall goal is to enhance student's knowledge about the various types of wetlands found throughout the state and how they can help get involved with wetland conservation. During the last five years, the program has reached over 300,000 students throughout the state and parish participation has increased each year!
The YW Program Provides all this at NO COST:
Hands-on educational curriculum for grades 4-12 (Designed to follow Louisiana's Grade Level Expectations (GLE's)).
Supplies to teach the wetland lessons
Opportunities to participate in wetland restoration projects and activities.
Registration is now open. To register for the YW Program, please click on the link below to fill out the registration form.
Youth Wetlands Registration Form
For Questions about the YWP contact:
Mindy Brooks
21549 Old Covington Highway
Hammond, LA 70403
Phone: 985/543.4129
E-mail:
mmbrooks@agcenter.lsu.edu

###
See what's new on the CWPPRA Web site! Visit LaCoast.gov
Tell Us What you Think
We welcome your comments! Contact us at lacoast@nwrccom.cr.usgs.gov
Spread the Word
Tell your friends they can receive this free newsflash by subscribing at:
http://www.lacoast.gov/news/newsletter.htm
For More Program Information:
Subscribe to WaterMarks, the CWPPRA magazine, by contacting lacoast@nwrccom.cr.usgs.gov
To view on-line issues visit
http://www.lacoast.gov/WaterMarks
CWPPRA Managing Agencies:





Other Related Coastal Restoration Web Sites:










Unsubscribe
This newsflash has been sent to you because you are either a participant in our program or you have provided your e-mail address to us in a request to receive it. If you prefer not to receive this newsflash, you can unsubscribe by sending an email to:
ListServer@nwrccom.cr.usgs.gov.
with "unsubscribe cwppra" as the subject without the quotation marks.