Similar to the typical in-person Technical Committee meetings, the public will be given the opportunity to provide comments or ask questions after each agenda item. Because this is a virtual meeting, background noises need to be monitored and all lines will be placed on a global mute. Through WebEx, you will be utilizing the Chat Box to submit a request to speak. Once your name is called, you will be directed to dial *6 on your phone to unmute your line. After you provide your statement, you will be directed to dial *6 again to re-mute your phone.

At the bottom of your screen, a row of icons should appear. See image below:

*Please remain patient - Your name will be called in the order in which the requests were received.
Troubleshooting:
In the case that you encounter a lost or interrupted audio/telephone connection, you may either dial in directly using the information provided below,
-------------------------- Audio Conference --------------------------
USA Toll-Free: 844-800-2712
ACCESS CODE: 199 743 4008
SECURITY CODE: 1234
https://usace1.webex.com/meet/alice.p.kerl
Meeting Number: 199 743 4008
OR
you can click the
'Connect audio'
icon seen in the image below, redirect the system to call your phone again (repeating Step 6 from the
'Joining the WebEx'
instructions) and you will receive a phone call to re-join the meeting.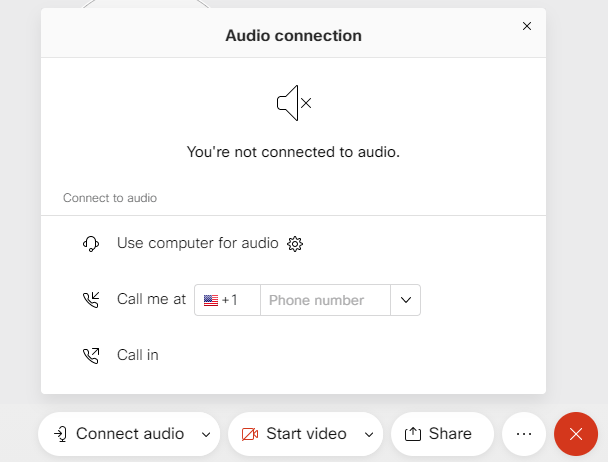 If your visual connection is lost or interrupted, your internet connection may be weak. If you are removed from the meeting, you will have to repeat the log in instructions above from the
'Joining the WebEx'
section.
See what's new on the CWPPRA Web site! Visit https://www.lacoast.gov/
Tell Us What you Think
We welcome your comments! Contact us at lacoast@nwrccom.cr.usgs.gov
Spread the Word
Tell your friends they can receive this free newsflash by subscribing at:
https://www.lacoast.gov/news/newsletter.htm
For More Program Information:
Subscribe to WaterMarks, the CWPPRA magazine, by contacting lacoast@nwrccom.cr.usgs.gov
To view on-line issues visit
https://www.lacoast.gov/WaterMarks
CWPPRA Managing Agencies:







Other Related Coastal Restoration Web Sites:









Unsubscribe
This newsflash has been sent to you because you are either a participant in our program or you have provided your e-mail address to us in a request to receive it. If you prefer not to receive this newsflash, you can unsubscribe by sending an email to:
ListServer@nwrccom.cr.usgs.gov.
with "unsubscribe cwppra" as the subject without the quotation marks.